AHF's Healthcare Foodservice Works Week
About AHF's Healthcare Foodservice Workers Week 
In 1985, one of the legacy organizations of the Association for Healthcare Foodservice (AHF) set aside the first week of October to honor and celebrate Healthcare Foodservice Workers. Then, in 1989, Congress officially recognized the first full week of October as Healthcare Foodservice Workers Week.
During this weeklong celebration, we take the time to celebrate the dedicated professionals who are the key ingredient in delivering nutrition excellence to patients and residents! Healthcare foodservice workers are integral to the seamless operation of healthcare facilities on a daily basis. Their multifaceted roles include catering meetings, facilitating take-out orders for both staff and visitors, and, most importantly, crafting nutritious and tailored meals for patients from diverse backgrounds and with varying health requirements.
Beyond the visible aspects of their work, healthcare foodservice workers excel behind the scenes. They skillfully manage extensive inventories of food required to prepare hundreds and thousands of meals, ensuring that healthcare facilities run smoothly and patients receive the nourishment they need for their recovery. Their unyielding dedication and attention to detail are truly commendable, contributing to the overall well-being of patients, residents, guests, and employees.
Thank you for all that you do!
Social Media Toolkit
Join the celebration of Healthcare Foodservice Workers Week 2023 by downloading exclusive AHF HCFSWW graphics! Help spread the word and honor these dedicated professionals who are the "Key Ingredient in Nutrition Excellence". Share the love on Twitter, Facebook, Instagram, and more using #HCFSWW2023. Together, let's recognize their incredible contributions to healthcare and show our gratitude. Download now and make a meaningful impact in just a click! #HCFSWW2023 #NutritionExcellence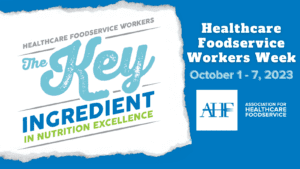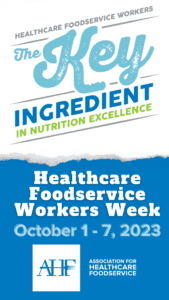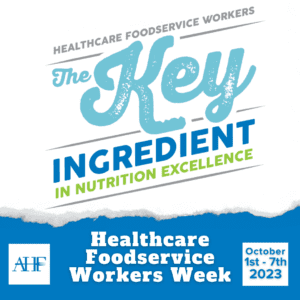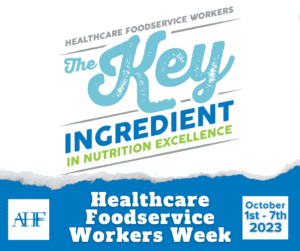 Swag & Promotional Items
Celebrate Healthcare Foodservice Workers Week in style! Visit the online store today and explore a fantastic selection of swag and gifts dedicated to these unsung heroes. Show your appreciation by treating yourself or your dedicated team to exclusive merchandise that embodies the spirit of healthcare foodservice workers. From cozy apparel to inspiring accessories, this year's collection is designed to honor their hard work and dedication. Don't miss this chance to make a meaningful gesture and spread positivity during this special week. Shop now and make a difference!
Swag and promotional items can be purchased for your team through our official partner Jim Coleman below: