Business Partner Directory
A Product & Service Directory for Operators
AHF's Business Partner Directory is one of our most utilized benefits. The Directory provides a listing of all AHF Business Partners that have committed to sponsoring the association and our members. It can be used in two formats, downloadable PDF or searchable online Directory.
Operators: We encourage you to use this as your FIRST stop when looking for new products and services. AHF Business Partners make AHF's work possible and they are ready and waiting to provide high quality service to our members.
The Goal of our Directory
It makes operators lives easier! This Directory outlines products, services and equipment offered by our Business Partner members. AHF's Business Partners include some of the most innovative, competitive and trusted companies in the world. These are people and companies that allow us, self-operated facilities, to do our very best work.
Operators can support the companies that support AHF. We encourage all Operator Members to review this Business Partner Directory and utilize this resource as a guide when you're considering your purchases for your facility. AHF Business Partners have made sizeable investments in AHF and they appreciate your year-long support. More than that they take special care of our members offering customized service, personal contacts, discounts, and more. 
Searchable Online Directory
Search through our directory online to rapidly sort and filter down to the business partners you need to contact. The directory can be searched at any time.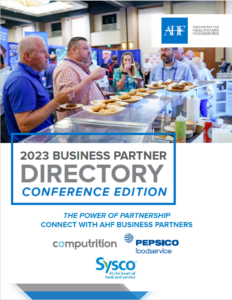 Download the directory and have it ready when you need to browse for new products and services. This is a great way to distribute to your administrators, chefs, and colleagues so they are equally prepared. 
Want to be listed in the Directory? 
Become an AHF annual sponsor to be listed in the Directory.  Reach out to [email protected] with any questions.