2022 Elections
It is a privilege to present this year's candidates. Please read their candidate statements prior to placing your vote.
The elected candidates will serve their terms beginning January 1, 2023. The voting period is May 5 through May 20. Voting will end on May 20 at 5:00 PM EST.
Who is Eligible to Vote?
Institutional members – Primary contact only
Retired members
If you did not receive the email with the link to cast your vote, and you are the key contact for your institution or are a retired member, please email [email protected]. 
Business partner, educator, affiliate, and student members are not eligible to vote.
Open Positions:
Candidate Statements
PRESIDENT-ELECT CANDIDATE
Promoting the organization and expanding its membership through networking, inclusivity, and championing the value of AHFs membership.
Expansion of the AHF resources and tools to ensure easy access and availability of evidence-based information to its members.
Advocating for self-operation among Healthcare Executives using data from Benchmarking Express 
TREASURER CANDIDATE
Thom Pastor, MBA, CDM, CFPP
Nutrition Services Manager
Saint Charles Healthcare
Bend, OR
Background Statement:
With more than 11 years in hospitals I've served as the Executive Chef, Nutrition Services Manager for two critical access hospitals and the Food Service Manager for two acute care hospitals. Since joining healthcare and AHF I have earned multiple degrees, spoken at conferences in New York and Oregon, helped build a hospital, managed through multiple disasters (and now a pandemic), served as a culinary school advisor, served many charities including ChefsCycle for No Kid Hungry and World Central Kitchen. Support from AHF and its membership have been instrumental in all these accomplishments. I'm proud to continue my service.
AHF Experience
Secretary – Current
Director-at-Large – two terms
Chapter Leadership Committee
E-Library Committee
Co-President – Oregon Chapter

Priority Statement:
With five years' experience on the Board of Directors, I'm proud to have been part of this organization and our work supporting self-operators.
My priorities are:
Supporting the professional development of self-op food service leaders.
Providing resources to help operator members lead their teams to success.
Foster strong networks between operator members as well as between operator members and business partners.
Provide assistance to healthcare leaders looking to take their operations from contract management to self-op.
It will be my pleasure to continue this work supporting operators.
TREASURER-ELECT CANDIDATE
AHF Advocacy:

AHF Board Member – Director at Large (2020 – Present)
AHF North Central Texas Member (2016 – Present)

Committee Work & Support:

Membership Committee (2022 – Present)
Education Committee Chair (2020 – 2021)

Awards:

2020 AHF Exemplary Leadership Award
2021 Visionary Award

Priority Statement:

I would appreciate your consideration as Treasurer Elect on the AHF National Board. In this role, I will support AHF to the best of my abilities ensuring smart financial decisions for our membership. I do believe I am perfect for this role as I am someone who is known for being meticulous and having strong financial acumen. I also have a proven track record for managing multi-million dollar budgets through my career. I look forward this next term working with our AHF leadership on your behalf.
SECRETARY CANDIDATE
Volunteer Experience
AHF Benchmarking Committee Chair, 2019-2020
AHF Nominating Committee Member, 2018
AHF Exemplarily Leadership Award Winner, 2019
AHF Conference Planning Committee Member, 2020
AHF Self Operated Committee Member, 2021- Current
AHF Board of Directors (Director at Large), Current Term
AHF Culinary Competition, 3rd Place- 2019 (Scottsdale, AZ)
AHF People's Choice- Virtual Culinary Competition- AHF-2020
VA Board Member- ANFP; Speaker at ACE national conference
Southwest Virginia Chapter of the American Culinary Federation Member; Education Committee Chair (2021), Vice President (2022)
Mentor, Big Brothers, Big Sisters of Central Virginia; President of the Board (2020-2021).
Lynchburg City Schools partners in education member
DIRECTOR AT LARGE CANDIDATES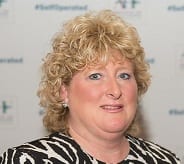 Angela O'Neill
Director Nutrition Services
Hunterdon Medical Center
Flemington, NJ
Background Statement:
Being a part of AHF National and our local AHF-NJ Chapter has been exciting and invaluable to my growth as a leader. It would be my pleasure to continue to serve and provide valuable knowledge to the association as a Director at Large.
AHF National
2021-2022 Treasurer Elect to Treasurer
2020 Co-Chair of the Conference Planning Committee
Committees served from 2011-present

Membership Committee
Self-op Project Team
Conference Planning Committee
Awards Committee Co-Chair
Nominating Committee
Chapter Advisory Board Co-Chair
Education-Webinar & Regional Networking Committee
Culinary Competition Committee
AHF-NJ Chapter
Served as an AHF-NJ Board Member 2011-present
AHF-NJ Chapter President- 2 terms
2017 & 2021-AHF Chapter of the Year Award

Professional Recognition
2021 AHF Exemplary Leadership Award
2016 AHF Partnership in Leadership Award Recipient
2009 Hunterdon Medical Center's Leadership Excellence Award

Statement of Priorities:
AHF has personally provided me with a breadth of opportunities since inception and I am truly dedicated to its success and growth to remain the premier organization for self-op healthcare foodservice. Serving on the Board of Directors would allow me to continue my journey contributing and supporting the mission and strategic plans. I consider AHF members extended family and being there for family is so important to me.
---
Patrick LaMont
Director of Food and Nutrition
Brookdale Hospital and Medical Center
Brooklyn, NY
Background Statement:
I've been a Food Service Leader for more than 30 years. I started as a dietary worker and I've since worked in K-12, B & I, Prison and the Healthcare Industry. I've held numerous positions such as; District Manager, Director of Food and Nutrition, General Manager. One of my greatest accomplishments was completing my MBA and going to the Middle East as a Subject Matter expert (SME) to work on a Greenfield, Design Build project worth over $1.2B but my greatest accomplishment is marrying my wife and creating 3 beautiful sons.
Priority Statement:
My priorities would be to, listen and support the leadership of AHF in order to meet the needs of our members on the topics of today and, where appropriate share my ideas of the future and the challenges that face us today. I will make myself available and willingly share my experiences in order to, drive AHF to be the needed resources for all our self-operators giving them, a competitive advantage for success in our industry and beyond.
---
AHF recent participation:
State of the Industry Committee
AHF Midwest Planning Committee
Self-Operated Committee
AHF Spotlight Award 2021
Other recent participation:
IFMA FS Leadership Council
RUSH Team of the Year 2021
Food Management-Magazine Best Concept Award-2021
General Mills Gold Star Advisory Board
Instructor at RUSH University

Priority Statement:
AHF has provided me with an opportunity to feel connected to like-minded foodservice professionals.  I would be honored and humbled to represent the members as a Director at Large in this vibrant community of superstars.  As a Director at Large my priorities would be to support the growth of our membership through focus on growth of the local chapters and sharing the AHF vision to those in the industry that may not know the opportunities self-operations provides.  I am committed to helping AHF flourish so that we can continue to provide exceptional value to our members and the customers we serve.
---
Association position currently held:
AHF NY Board of Directors: President-Elect
Past offices held and/or contributions to professional organizations include:
AHF NY Board of Directors: Secretary
AHF National, Membership Committee 2020-2021
Conference speaker, AHF Annual Conference 2021
SO Connected Magazine Contribution August 2020

Priority Statement:

AHF is a dynamic value driven organization providing superior resources to members.  As Director at Large, I am committed to supporting AHFs initiatives for membership, education, and strategic planning utilizing opportunities to share my expertise and collaborate to support the organization's operational success.
---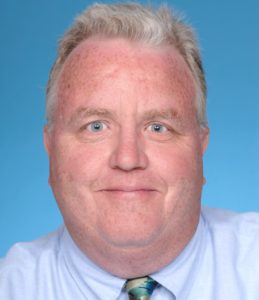 Dennis Brennan
Manager, Retail Food Operations
Reading Hospital / Tower Health
Reading, PA
Background Statement:
Dennis Brennan is a 45-year food and beverage professional with a background in hotels, restaurants, entertainment venues, and since 2003, healthcare foodservice.
Healthcare Experience:
Consultant, then Director for Temple University Health System Philadelphia (6 years)
Manager of Retail Operations at Reading Hospital (12+ years)
AHF Experience:
Member of Self-Op Committee (3 years)
Member of Conference Planning Committee (2022)
Member of Chapter Advisory Board (4 years)
President of Philadelphia South Jersey Chapter since January 2019
Since I moved into healthcare foodservice 19 years ago, I am most proud of my association with both National and Chapter AHF. I found an organization wholly dedicated to a more important aspect of the F&B industry – that of clinical patient care and service to long-term residents.
Priority Statement:
My efforts would be directed toward the growth of our organization, both operators and vendor-partners.
LEADERSHIP DEVELOPMENT COMMITTEE MEMBER CANDIDATES
AHF National Conference Planning Co-Chair
AHF Wisconsin Chapter – Director of Hospitality and Seminar
Past offices held and contributions to professional organizations include:
I believe strongly in educating the leaders of tomorrow.  I strive to emulate this by working directly with my team, networking with like-minded professional, mentoring through BOCES and collaborating with students at Cornell University.  My goal for AHF is to build a robust pool of talented and successful leaders.